January 25th, 2017 by
admin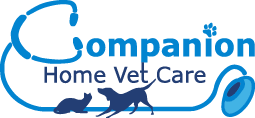 If you would rather not deal with wrangling your stressed out pet to their next vet appointment, Companion Home Vet Care in Longmont offers the convenience of in home vet services! Dr. Cross has 17 years experience as a general practitioner and emergency veterinarian and now specializes in bringing compassionate care to pets in their homes all along the Front Range.
Pain Management
Whether your older pet is suffering from arthritis or your younger pet has sustained an injury, chronic pain is something we can help alleviate. Dr. Cross is an expert in many types of pain management, and encourages a multi-modal approach when deciding how to best help your pet. She is knowledgeable and experienced with administering conventional medicines, nutritional supplements, physical therapy, acupuncture and laser therapy.
Pet acupuncture and laser therapy are specialty services that most vets do not offer, but are very effective methods for not only treating pain but also reducing inflammation and stimulating healing. Just some of the problems helped by acupuncture are gastrointestinal, respiratory or neurological dysfunction and myofascial trigger points. A few of the conditions improved by pet laser therapy are ear infections, hot spots, hip dysplasia and degenerative joint disease.
Home Euthanasia
Saying goodbye is absolutely the hardest part of owning a pet. Helping your furry family member pass peacefully in their own home surrounded by the people they love is the most compassionate way to end their suffering. Dr. Cross empathizes with pet owners during this very difficult time, and strives to minimize the stress of this process in every way possible. Companion Home Vet Care in Longmont also offers the body aftercare services of private or communal cremation, and a paw print memorial is always included in the service.
Please visit our website to learn more about our in home vet services, and let the veterinarian come to you- your pets will thank you!