January 23rd, 2017 by
admin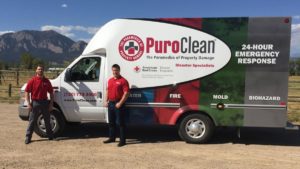 No home or business owner can predict when their property will need emergency restoration services, but knowing what disaster cleanup company to contact can help immensely when the need arises. PuroClean Disaster Response of Boulder County is locally operated by Scott Sorenson and Bruce Helart, and their crews use state of the art equipment and advanced procedures to restore your space to its pre-disaster condition as fast as possible.
Water & Mold Removal
Time is of the essence when part of your home or business is underwater. The PuroClean staff uses our trademarked QuickDry System to begin the drying and dehumidification process immediately. If the standing water was left long enough for mold to develop, rest assured that our technicians have the knowledge, equipment and experience to effectively mitigate the problem. With certification in Advanced Mold Remediation, we create a detailed treatment plan that begins with taking samples to be tested in an independent laboratory and ends with another test to verify the mold is gone.
Fire & Storm Repair
We understand that dealing with the damage left behind from a fire or storm is overwhelming for a home or business owner; which is why hiring a reputable disaster cleanup company like PuroClean is so important. Our expert team will quickly and proficiently remove damaged materials, deodorize any lingering smoke or other odors and thoroughly clean and sanitize your space.
Expertly Trained & Certified
Each of PuroClean's technicians study water damage, fire restoration, mold remediation and many other disaster cleanup procedures to receive their credentials through the IICRC, or Institute of Inspection Cleaning and Restoration Certification. We are also a Lead Safe Certified Firm through the EPA, and certified by the State of Colorado in asbestos regulations.
Whether you have water, fire or storm damage or need biohazard or mold remediation, PuroClean of Boulder is the local disaster cleanup company that you can rely on. Visit our website to learn more about our services and read testimonials from a handful of our many satisfied customers. When disaster strikes, call "The Paramedics of Property Damage" at (720) 773-3400- we are available 24 hours a day, 7 days a week!